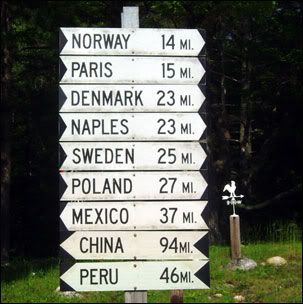 Where's my cancer GPS?
For those of us who have completed initial treatment for breast cancer, what to do next may be a big question without a ready answer. Often, it gets harder to answer that question the further we get from the date of our original diagnosis. We may get some kind of screening every year. We may be told we are still NED. We may still be taking some kind of hormone suppressors or we may have quit taking them. We may have managed to get on with life despite the continuing fear of recurrence or mets. And yet, we may very well still feel like utter excrement and not know what to do about it.
Some of us may continue to see one or more of our cancer doctors on a regular basis. Some of us may be followed mainly by our primary care doctors. But many of us have never discussed with them any sort of overall strategy for what, for lack of a better word, has come to be called survivorship. We may not even get asked about long-term collateral damage, and if we bring something up, we may get a shrug or a prescription for a lab test. But what we don't get is a road map.
I was prompted to write this after reading a post written by my friend Eileen about how she's been doing lately. Still plagued by fatigue, she describes how she is being followed mostly by her current primary care physician, who doesn't seem to know how to help her and is not receptive to her suggestions.
What the ever-loving heck? Back in 2010, I wrote a few posts about the existence of survivorship care plans. The first post highlighted the publication of a book by the Institutes of Medicine called From Cancer Patient to Cancer Survivor: Lost in Transition. Yep. Pretty much says it all. Later that year, I followed up with another post that described in more detail the efforts of the Centers for Disease Control, which began in 2003 to formulate, with the help of several other organizations, a national action plan to develop and implement the use of cancer survivorship care plans. A pdf of a patient-centered brochure describing the plan may be found at this link.
2003?? So, what happened?
In 2011, The Oncologist published an article about how to maximize the benefits and effectiveness of these plans. The most obvious conclusion to be drawn from this piece was that the healthcare system was still figuring out how to do them in the first place. A few years later, the Journal of Cancer Survivorship published a study that assessed the status of the CDC's national action plan. The organizations included in this assessment were the American Cancer Society; CancerCare; CDC, Division of Cancer Prevention and Control; Livestrong Foundation; and the National Coalition for Cancer Survivorship. Twenty-two people were interviewed for this assessment, a group comprised of organization directors, clinical supervisors, and staff who directly managed relevant activities. The study did not specifically mention the inclusion of physicians or oncologists, nor were any actual cancer survivors interviewed. Table 2 lists the priorities identified by the original action plan. They all sound good, but the study found that implementation was a lot more complicated. Overall, it seemed that most recommendations were put into place, but that there was a lot of room for improvement.
One feature of the action plan was the use of patient navigators, who may play a role during acute care as well as survivorship. One of my previous posts, written last year, discussed the availability and effectiveness of these navigators. In 2014, a study conducted by the University of Ottawa questioned the cost-effectiveness of the survivorship care plans used with breast cancer patients. The study found little difference between standard follow-up care and care provided according to a survivorship plan. Survivorship care plans were, in fact, found to be slightly more expensive, but the authors suggested that their cost-effectiveness might be improved by better identifying patient needs, using health information technology, and improving data collection. Another study was completed in 2015 at UCLA to look at the use of treatment summaries and survivorship care plans for underserved breast cancer patients at two public county hospitals. Results have not yet been published.
I feel more lost than ever.
Meanwhile, one of the original goals of the CDC's action plan was for each of us to get a written survivorship care plan. I'm still waiting for mine. And I am still wondering whether our doctors even know how to write one. To that end, I unearthed a few resources to help our doctors help us.
The simplest one appears to be a template designed by the American Society of Clinical Oncologists (ASCO). The details, aimed at healthcare providers, are described here. A description geared toward patients can be found here, and recommendations specific to breast cancer patients are described here. The template itself is about two-and-a-half pages long, and I've included it as a downloadable pdf here. You could perhaps bring it with you to your next appointment with the doctor of your choice. You could probably even fill in a lot of it yourself.
And, naturally, there's an app for this. JourneyForward provides a downloadable program which can be used by you or your doctor for building a survivorship care plan. The link to this software is here. Yes, I did download it, and, yes, I started filling it in. But to do a good job of it, I would have had to look up a bunch of crap I didn't feel like looking at right now. Maybe later.
I hit the motherlode when I visited the website for the National Comprehensive Cancer Network. Never an organization to leave any stone unturned, NCCN provides an evidence-based tome for practitioners describing how to assess any and all cancer survivors and what elements to include in a survivorship care plan. If you thought ASCO's two-and-a-half page template was long, the NCCN's guidelines are a whopping 179 pages. A pdf of these guidelines can be found here. I suggest clicking on the link for the Survivorship Table of Contents on the upper right and going from there. It's really quite impressive. The guidelines discuss the role of primary care doctors (page 98), and list the elements that should be included in a summary provided to cancer patients upon the completion of treatment (pages 98-99). These include:
a personalized treatment summary
information on possible late and long-term side effects
information on signs of recurrence
guidelines for follow-up care
identification of providers
recommendations for healthy living
identification of supportive care resources
Looks perfectly splendid, doesn't it? The chances of getting all this from our doctors? Not so much. However, as long as we cancer patients can read, at least we can use these guidelines as tools to help us look after ourselves. And hope our doctors will want to go along for the ride.
In the meantime, I'd love to hear from you about your experience with this. Did your doctors provide any sort of plan or summary of your treatment? Who do you see now for follow-up care? How is it going? Are you getting what you need? Me, I could use a winning lottery ticket. It wouldn't fix everything, but it would surely help.
---
17 Responses to "Can I Get a Roadmap? Cancer Survivorship Care Plans Do Exist"