Worthy Causes
See this beautiful woman here?  I'm privileged to say that she's a friend of mine.  Her name is Gina.  She's a two-time breast cancer survivor, an author, an entrepreneur, a loving momma to her cat Fluff, and an all-around great human being.  And she needs your latte money.
Where I live, the average caffè latte goes for about $4.00.  So, the next time you even think of a latte, I'd like you to give the $4.00 to Gina instead.  I'm not kidding. I know you're sitting there, reading this on your computer, and a lot of you have PayPal accounts or your checkbook is probably nearby.  So I want you to do this, right now.  You can come back and finish reading this post in a few minutes.  Just do this.  It's only $4.00.  I have 115 followers through Facebook alone and another half dozen or so through Google.   So, let's say that's about 120 people who I know regularly read this blog.  That means that if all of you sent Gina $4.00, she would have $480.  And believe me, she could really use it right now, and I assure you, she'll put it to good use.
If you click on this link, caffè latte money, it will take you to the Donation page for the No Surrender Breast Cancer Foundation, which Gina founded several years ago after her first bout with breast cancer.  On it, you'll find a bright yellow Donate button that takes you to PayPal. If you prefer, you can mail your $4.00 check directly to No Surrender at the address below.  Just do it right now, okay?   Go to the link or grab a pen and your checkbook, and then come back here, and I'll tell you more about why you are doing it.  Here's the address:
No Surrender Breast Cancer Foundation
Post Office Box 84
Locust Valley, NY 11560
Okay, are you all set now?  Wasn't that easy?   Didn't it make you feel good?  Now I'm going to tell you why.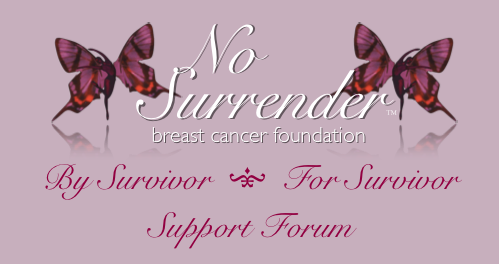 "Get Thee A Survivor!"
If you're reading this blog, then you already know that no one knows what it's like to go through breast cancer like someone who's gone through it herself.  One of the first things I did after I was diagnosed was to try to find someone to talk to who had been through it already.  And I did.   In fact, I found hundreds of them online, on peer support forums.  One of those forums was the one at No Surrender, which you can find here at the No Surrender Support Forum.  The big difference between this forum and other breast cancer support forums is that this one is moderated by Gina herself.  Having another survivor keep an eye on things is a tremendous blessing.  A support forum is an incredibly emotional place.   That is both its strength and, at times, its biggest liability.   My own experience with the two main forums I turned to was overwhelmingly positive.  Believe me when I tell you that I would have lost my sanity without the generosity, compassion, kindness and friendship of the women and men I found on them.  But I'd be lying if I didn't admit that sometimes, my feelings got hurt.   Sometimes, instead of cool-headed advice and straightforward information, I found hysteria and hyperbole.  We're all only human, and we're all going through one of the worst calamities of our lives, so we're not always at our best.  Snarkiness happens.  Disagreement happens.  Sometimes sheer, unadulterated bullshit happens.  And it's all understandable in the circumstances.   That's why forums have moderators, to smooth ruffled feathers and address perplexing issues.  But when the moderator is another survivor, and a survivor who is as intelligent, well-informed and compassionate as Gina is, it makes a big difference in how disputes and misunderstandings are addressed.  Gina's been there, so she knows where we're all coming from.  With her perspective, as well as her knowledge about evidence-based treatment, she knows how to gently keep the ship on the best course without making anyone feel worse.  She's a class act.
Knowledge Is Power
One of the other great things about No Surrender is that you can find all the information you need to navigate the quagmire of breast cancer treatment.  In the words of No Surrender's mission statement, "We have taken off the 'white coats' and put the information you need into language that is understandable.   We know that the worst part of being diagnosed with breast cancer is all the unknowns and how powerless that makes you feel.  We believe knowledge is power and an informed patient is a good patient who is her own best advocate."  Gina is committed not only to providing the basics, but to providing the latest information about evidence-based research and advances in the prevention, detection and treatment of breast cancer, as well as how to survive and take back your life when treatment is over.  And all of it is expressed in language that you can understand, that pulls no punches yet explains what you need to know from the perspective of someone who's been in your shoes.  It's refreshing to read a description of a pathology report, for instance, that is not merely bland and scientific, but explains the details as if you were sitting down having a conversation with a knowledgeable friend who is holding your hand.  The entire site is like that, not dry and dusty, but personal, comprehensive, and never patronizing.
One To One
If you read my last post, then you know that out there in The Land of Pink are some behemoth foundations that raise millions of dollars to fund research on breast cancer.  And you also know that all that research money has done astonishingly little to change the mortality rate of breast cancer.  The fact that hundreds of women and men still die every day from this disease is knowledge that hits you like a bullet when you first hear your diagnosis.  Even though most of us survive this disease, when you are gasping at the revelation that the Stalker has taken up residence inside you, you need help that's more immediate and material than whatever is going on in some distant laboratory.  No Surrender's Sister Corps can provide that help.  One of the things the most people do not apprehend is how costly it is to have cancer.  Even if you have health insurance, like I did, to pay for surgery, radiation, chemotherapy and the myriad tests and doctor visits you end up making, having cancer puts a tremendous strain on your resources.  Suddenly, you need transportation, help with meals and housekeeping, more comfortable pajamas, someone to babysit your kids, peculiar underwear, a hairdresser than knows what "chemo curls" are, the list goes on and on.  Just being able to meet another survivor in person, to find out where you can find a bra that fits comfortably is a big help.
The Nitty Gritty
Somehow, Gina has been through all of this — twice — and yet has managed to start a foundation, create a website, run a forum, write a blog, and, if all that weren't enough, she even wrote a terrific book about how to get your life back after cancer!!  Which also means she's given interviews, appeared on television and done book signings.  All that, and she has to come up with the money to keep all this going, pay her rent and buy cat food for the Fluffman.   At two years after treatment, I am still not able to work full-time, and I am only just beginning to recover some of the energy I had before cancer.  My house is still a wreck, I've gained twenty pounds, and I am often overwhelmed just trying to figure out where to start putting the pieces back together.  I don't know how she does it, frankly, but I was very happy to donate the price of ten café mocha's last month to help her keep doing it.
So, here's the thing.  Some of you may know that recently, Gina has had massive troubles with the folks that hosted her forum.   She's also having problems with her site software and various other techie, geeky stuff that's infuriating and expensive and time-consuming to fix.  Anyone who's ever spent any time on the phone trying to get a hold of someone to help with a tech problem knows what I'm talking about.   But software and computers and data storage and web-hosting and tech support all cost money.   And it's money she doesn't have.  The No Surrender Breast Cancer Foundation is, basically, Gina, one woman, with some splendid friends and advisors, who does not have a trust fund or a million-dollar endowment or a major stock portfolio, and who's also not selling her soul to corporate America either.   And I know you've got the price of at least one latte gathering lint in the bottom of your pocket. So, I'm asking you one more time to haul it out and send it to her.  And in case you're busy fishing that $4.00 out of your pocket and can't scroll back to the top of this post, here's that donation link again — caffè latte money — and here's the address to send her a check — No Surrender Breast Cancer Foundation, Post Office Box 84, Locust Valley, NY 11560.
Okay?  Okay.  Oh, and thanks.
---
Please click on the post title or the comment link below to post a response.
12 Responses to "Help A Sistah"